Die ungerahmte Welt
HeK, Basel, Schweiz
Kuratiert von: Tina Sauerlaender
Künstler: Li Alin (CAN/DE), Banz & Bowinkel (DE), Fragment.In (CH), Martha Hipley (US), Rindon Johnson (US), Marc Lee (CH), Mélodie Mousset & Naëm Baron (FR/CH), Rachel Rossin (US), Alfredo Salazar-Caro (US)
19.01.2017 - 05.03.2017
,
http://www.hek.ch/
Ausgestellt
10.000 Moving Cities - Same but Different, VR (Virtual Reality)
Interaktive netz- und telepräsenz-basierte Installation
10.000 Moving Cities - Same but Different beschäftigt sich mit Urbanisierung und Globalisierung im digitalen Zeitalter. Durch Umherlaufen und Kopfbewegungen bewegt sich der User durch Bildwelten, die andere öffentlich in sozialen Netzwerken wie YouTube, Flickr oder Twitter über den Ort gepostet haben. Diese persönlichen Eindrücke werden hier wie Fenster zur Welt in Echtzeit gestreamt. Der mehr …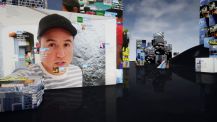 Screenshot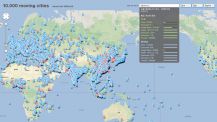 Interface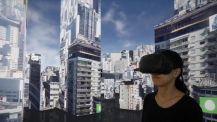 ZKM Karlsruhe
Publikation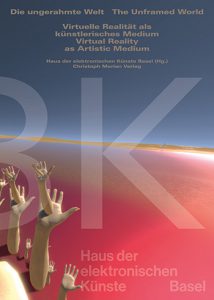 DIE UNGERAHMTE WELT / THE UNFRAMED WORLD
Virtuelle Realität als künstlerisches Medium/ Virtual Reality as Artistic Medium
Merian, Christoph Verlag, HeK (Haus der elektronischen Künste Basel)
Buch softcover, 96 pages, 63 colour illustrations, 17.5 x 24.5 cm
2017
Deutsch/English
Sabine Himmelsbach
ISBN 978-3-85616-850-6
http://www.hek.ch/en/program/events-en/event/die-ungerahmte-welt.html
Artistic positions using virtual reality technologies
New perspectives on the depiction of digital pictorial worlds
Essays from Bettina Back, Julia Kaganskiy, Patrick Lichty and Tina Sauerländer
The essays present the works from different research perspectives, thus enabling a broad overview of current trends in a media art based on virtual reality technologies.
The latest virtual-reality technologies are asserting themselves currently in the domain of the fine arts and facilitating an immersion in artificial worlds. Virtual reality is used not only to explore aes-thetic potential, but also as a critical medium for reflecting on the existential state of today's life-world. The works presented in this publication deal with multifaceted themes, such as physical per-ception and physical laws, societal structures as well as architecture and poetry.
mehr …