Poetics and Politics of Data
HeK, Basel, Schweiz
Kuratiert von: Sabine Himmelsbach
Künstler: Christopher Baker, Aram Bartholl, Paolo Cirio, R. Luke DuBois, Ellie Harrison, Marc Lee, Bernhard Hopfengärtner & Ludwig Zeller, Rafael Lozano-Hemmer, Kristin Lucas, Moniker, Jennifer Lyn Morone, RYBN, Erica Scourti
2015
,
http://www.hek.ch/
Ausgestellt
Pic-Me - Fly to the Locations Where Users Send Posts
Online Projekt
Mit Pic-Me kann man virtuell an den Orten fliegen, von wo aus BenutzerInnen zufällig ausgewählte Posts auf Instagram senden. Eine andere Sicht, wie Medien Posts auf Sozialen Netzwerken behandeln. Man könnte diese Posts - Bilder oder kurze Videos, versehen mit Kommentaren und Tags - als digitalen Smalltalk oder persönliches Gespräch beschreiben. Aber anders als direkte persönliche Gespräche mehr …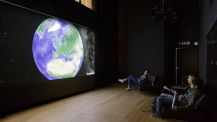 Festival IMAGES Vevey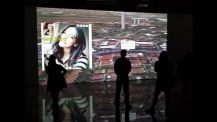 Jimei X Arles Xiamen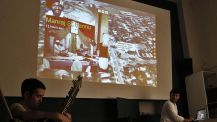 Dock18 Zurich
Publikation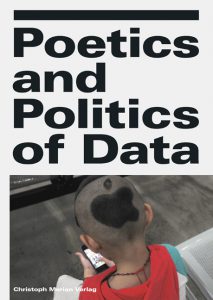 Poetics and Politics of Data
Merian, Christoph Verlag, HeK (Haus der elektronischen Künste Basel)
Buch softcover, 272 pages, 83 mainly colour illustrations, 17 x 24 cm
2015
Deutsch, English
Sabine Himmelsbach, Claudia Mareis (ed.)
ISBN 978-3-85616-681-6
http://www.hek.ch/programm/events/event/poetics-and-politics-of-data.html
Poetics and Politics of Data reflects life in a world increasingly controlled by data and presents artistic positions that aim to make continuous streams of data visible – whether using Internet-based installations or graphic data visualizations. The participating artists question the relevance and place of the individual in a technologically connected society in which every day, each of us generates a nearly incomprehensible amount of data: Our every move on the Internet leaves behind a digital trace. In critical essays, Orit Halpern, Sabine Himmelsbach, Lev Manovich, Claudia Mareis, Ramón Reichert and Roberto Simanowski explore the phenomena of ‹Big Data› and ‹Data Mining› and pose critical questions about the ambivalence of life in a «datified» world.
I can't think of any other book that pinpoints in such a wide-ranging and critical way the topic of politics and data. This is a solid publication that goes beyond its simple role of being an art catalogue. (Régine Debatty, www.we-make-money-not-art.com, 25.8.2015)
mehr …