Young Swiss Interactive
Metaworx, Basel und Genf and Zürich, Schweiz
2003
Ausgestellt
Loogie.net TV - Be the First to Know!
Interaktiver Online-Nachrichtensender
Loogie.net TV zeigt aktuelle Fernseh-Nachrichtensendungen auf Knopfdruck zu selbsterwählten Themenschwerpunkten. Durch individuellen Suchanfragen via einer speziellen Fernsehfernbedienung kann man bestimmen, was thematisch im Fernseher ausgestrahlt wird und bekommt so eine massgeschneiderte Nachrichtensendung präsentiert. In einem zweiten Schritt kann das laufende Fernsehprogramm thematisch mehr …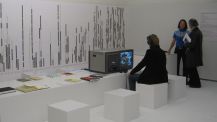 Museum für Gestaltung Zürich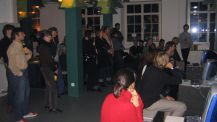 plug_in Basel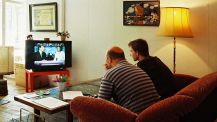 Diploma Exhibition Zürich
Publikation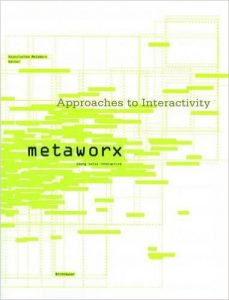 Approaches to Interactivity: MetaWorx : Young Swiss Interactive
Birkhäuser, Basel
Buch paperback, 175 pages, color illustrations, CD-ROM
2004
English, Deutsch
Vera Bühlmann, Association MetaWorx
ISBN 3764300892, 9783764300890
by Association MetaWorx (Editor), Christoph Tholen (Preface)
New media and interactivity: what do the latest generation of young Swiss designers have to offer? This book provides an overview. MetaWorx is a foundation supported by the leading design schools and art academies of Switzerland. In this publication, MetaWorx presents the next generation of "Swiss Graphics, " providing a challenging contribution to the research into the theory and expression of interactivity which must surely be one of the most stimulating and fascinating fields of art and design in our time. The transdisciplinary perspective opens a wide field where moments of interactivity are expressed in surprising and visionary installations. In this publication, the artists and designers present their projects themselves, and their contributions are accompanied by theoretical texts which reflect on interactivity in general and set the projects within the broader context of modern day culture. The accompanying DVD provides a video documentation including texts, pictures, sounds and applications. MetaWorx will first go public in October 2003 when an exhibition will take place at Viper Basel, an international festival for film, video and new media.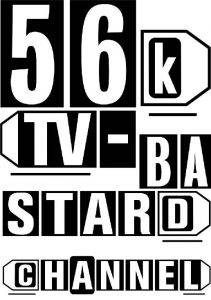 56kTV - Bastard Channel
Pro Helvetia and Xcult project
56kTV MAGAZIN ONLINE
2004
Deutsch, English, Français, 日本の
Reinhard Storz
www.56k-bastard
56kTV - bastard channel has its own programme Magazin. International authors from the worlds of the film, art and the media sciences comment on the TV project and the individual programmes, thus enriching the audio-visual online offer by a print & read version. We are investing in a good visual concept and leaving the print-on-demand to our public, since the TV Magazins can be printed on every home printer.
EDITORIAL
bastard channel is a cross between a television and a web project, a platform in the Internet that tells the story of itself as a television channel. The channel works with the lowtech and financial means of network art and has collaborators on three continents. Its programme can be received all over the world.
On 18 November 2004, bastard channel has been celebrating its start with six programmes within the framework of the Viper Media Festival in the Basel Kunsthalle. By the winter of 2005, seven new programmes will have been added. The participants are artists from Bangalore, Basel, Berlin, Geneva, Los Angeles, Mexico, Paris, Seoul, Tokyo and Zurich, as well as collaborating text writers, translators, programmers and graphic artists.
It will not be possible to receive all the bastard channel programmes at all times, for our online project operates according to the television programme structure. Trailers will provide information about the times of day and night when you will be able to receive the next programmes in your part of the world. Whereas the terrestrial television stations are working on making it possible for programmes to be broadcast online independently of times and dates, bastard channel is set on limiting consumption: we do not want our programme to be available all the time, and we take the opportunity of wagging a cautionary medial forefinger at the "zap & surf attitude".
mehr …