404 Objects Not Found
Total Museum of Contemporary Art, Seoul, Korea
Curator: Nathalie Boseul Shin
Artists: Warning - Antonio Muntadas, Babel - Simon Biggs, Reverse Engineering the Library_Simon Biggs Babel - Steve DIETZ, O-N-N - Marc Lee, Technology to the People - Daniel Garcia Andujar
2006
Exhibited Artwork
Open News Network (O-N-N)
Software art project - peer-to-peer news network
The Open News Network (O-N-N) endeavors to bring together the creative and communicative potential of Internet users in order to better represent the opinions of each individual in the media landscape. Going beyond the established frontiers of news distribution and media technologies, members of O-N-N communicate using peer to peer networks to try to get individual opinions established in the more …
Terminal Knutwil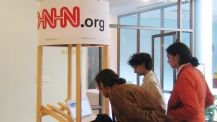 Terminal Delhi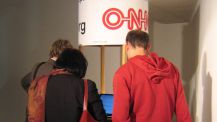 Terminal Oldenburg
Publication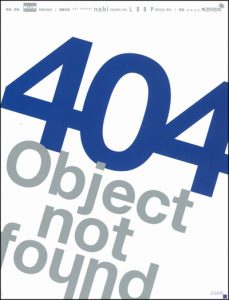 404 Object Not Found
Total Museum of Contemporary Art, Art Center Nabi, Alternative Space LOOP
Exhibition brochure
2006
English, 한국 (Korean)
Nathalie Boseul Shin
O-N-N, Marc Lee (PDF)
'404 Object Not Found_Seoul 2006' was a research project launched by the Total Museum of Contemporary Art, Seoul, to address issues related to the production, presentation, and preservation of media art, with a particular focus on net-based art and data archiving. It encompasses an exhibition, research project and symposium. It is a follow-up to '404 Object Not Found', which took place in 2003 in Dortmund, Germany.
Total Museum of Contemporary Art, Seoul, South Korea
Art Center Nabi, Seoul, South Korea
Alternative Space LOOP, Seoul, South Korea
This publication presents the exhibited works, research findings and other documentation of the project.
O-N-N_404-object-not-found_Total-Museum-of-contempory-Art_Seoul
Artists and works
Warning - Antonio Muntadas, Babel - Simon Biggs, Reverse Engineering the Library_Simon Biggs Babel - Steve DIETZ, O-N-N - Marc Lee, Technology to the People - Daniel Garcia Andujar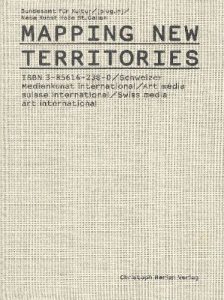 Mapping New Territories - Schweizer Medienkusnst International /Art Multimédia International /Swiss Media Art International
Christoph Merian Verlag, BUNDESAMT FUR KULTUR
Book paperback, 2005. 265 pages, 24 x  19 cm, 1 CD-ROM
2005
Deutsch, English, Français
ISBN10 3856162380, ISBN13 9783856162382
Publikation zur Ausstellung vom 30.1.-27.3.2005, St. Gallen.
[plug.in]; Neue Kunsthalle St.Gallen
Medienkunst – nach den Videos nun auch net.art und interaktive Installationen – halten in jüngster Zeit Einzug in den traditionellen Kunstbetrieb und gewinnen ein breites Publikum. Etliche auch international erfolgreiche Werke entstehen dabei in der Schweiz. ‹Mapping New Territories› nimmt eine Standortbestimmung der Schweizer Medienkunst vor. Essays von Yvonne Volkart, Villoe Huszai, Maria ...
GLOBALE: Infosphere
ZKM | Center for Art and Media
Exhibition brochure, 65 pages
2015
Deutsch, English
Jean-Marie Dallet & Isolde De Buck
ISBN: 9789492321473 ISBN-13: 9789492321473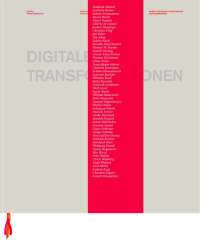 Digitale Transformationen. Medienkunst als Schnittstelle von Kunst, Wissenschaft, Wirtschaft und Gesellschaft
WHOIS, Heidelberg
Book hardcover
2004
Monika Fleischmann, Ulrike Reinhard
ISBN: 3-934013-38-4, Signatur: KT-AUS-4140.3
GOLDSTRASZ-Thomas Suchmaschinen Digitale Transformationen (PDF)
, 
issuu.com

Die Publikation "Digitale Transformationen" beschäftigt sich mit den grundlegenden Transformationen, welche die Kunst und das moderne Leben durch digitale Technologien erfahren. Theoretiker, Künstler und Wissenschaftler kommen neben Produzenten, Förderern und Vermittlern zu Wort, um die digitalen Transformationen in ihren vielfältigen Rollen und an konkreten Beispielen als neue Ästhetik und als Innovationsforschung vorzustellen. In der Kunst mit Informationstechnologien geht es um Bild(er-)findungen auf der Grundlage kommunikativer Prozesse, um begriffliche Strategien und kognitive Methoden.
Damit möchten die Herausgeberinnen Ulrike Reinhard und » Monika Fleischmann nicht nur den klassischen Kulturbereich ansprechen, sondern die Medienkunst als künstlerische Position an der Schnittstelle von Technologie, Wirtschaft, Wissenschaft und Kultur denen nahe bringen, die bereit sind, diese Kunstform als einen wichtigen Schlüsselfaktor für neues Denken und Innovation anzuerkennen und zu fördern. Medienkunst zeigt neue Weltbilder. Sie zeigt, wie wir verstehen, was wir sehen und hören. Die Texte geben einen Einblick in Diskurs und Praxis im deutschsprachigen Raum und sind hier nachzulesen.


more …