Digital Playground - Hack the City!
Total Museum of Contemporary Art, Seoul, Korea
Curator: Nathalie Boseul Shin
Artists: Aram Bartholl, BLU, Graffiti Research Lab(James Powderly & Evan Roth), Marc Lee, Intima Virtual Base(Igor Stromajer & Brane Zorman)
2008
Exhibited Artwork
TV Bot - World News as Soon as It Happens!
Network-based television program
The TV Bot is an Internet news channel which only broadcasts brand new stories. Never more than an hour old, they are scooped from the Internet's news flux, reformatted for a browser and given a URL. The process is automated, with no editorial hand behind the content selection which is reproduced in apparently random order as live TV streams, live radio streams, webcam images and text-based headlines. more …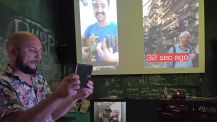 Dock 18 Zurich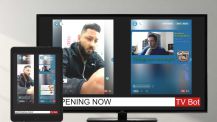 TV Bot 3.0 (2016)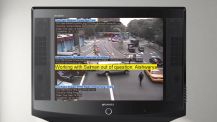 TV Bot 1.0 (2004)
Publication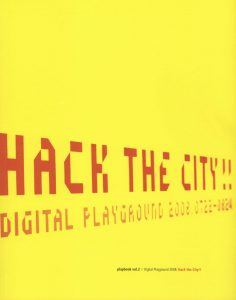 Digital Playground - Hack the City!
Total Museum of Contemporary Art
Hardcover book, 113 Pages, 24 cm
2008
한국 (Korean)
Nathalie Boseul Shin
Media art city intervention workshop
ISBN 978-89-961789-0-3 93600
http://datenform.de/blog/digital-playground-hack-the-city
Nathalie Boseul SHIN curator at Total Museum of Contemporary Art, Seoul, South Korea invited me to run the WoW workshop/performance for this exhibition. "Digital Playground" is an annual media art exhibition started in 2005 at Eujeongbu International Media Art Festival. I am quite exited to run WoW in korean hangul letter system.
Digital Playground 2008 "Hack the City!"
Recently, the outlook of Seoul is rapidly changing. It means we are surrounded by 'under construction' sign boards. Seoul is under-construction. One day, we have the artificial river, Cheonggae-cheon" at the down town, huge buildings, parks. What is changing is not only outlook, but our daily life is also changed. It is no longer surprise thing or imagination to watch TV or talk with friends face to face.
Last year, Seoul city government announced big plan 'Seoul city gallery project' which is for making Seoul as the art city. Many art works are installed on the street, overpasses. People can enjoy art in the park. However, take the different perspective, and ask to ourselves. for what we need art installations in public spaces? Furthermore, what is purpose of art in that sense? There are many kinds of arts, but if we can say about contemporary 'media' art, it should be more clear about that question. As I quoted above, "artists alone can't change the world", but I believe "artists can make people see or think the other side of what is actually happening with artworks or projects"
more …