FILE
Electronic Language international Festival SESI Gallery, São Paulo, Brazil
Curator: Ricardo Barreto and Paula Perissinotto
Artists: Adam Basanta (Canada), Amy Karle (United States), Andreas Lutz (Germany), Gwendaline Bachini (France), Daniel Jolliffe (Canada), Dorette Sturm (The Netherlands), Håkan Lidbo & Max Björverud (Sweden), Lawrence Malstaf (Belgium), Marc Lee (Switzerland), Martina Menegon (Austria), Oculus Story Studio (United States), One Life Remains: André Berlemont, Kevin Lesur, Brice Roy & Franck Weber (France), plaplax (Japan), Plastic Studios (Poland), Teun Vonk (The Netherlands), Thom Kubli (Germany)
17.07.2017 - 03.09.2017
,
http://file.org.br/file_sp_2017/marc-lee-3/
Exhibited Artwork
10.000 Moving Cities - Same but Different, VR (Virtual Reality)
Interactive net-and-telepresence-based installation
10.000 Moving Cities - Same but Different deals with urbanization and globalization in the digital age. The user moves through visual worlds posted publicly by others on social networks such as YouTube, Flickr or Twitter. Here these personal impressions are streamed in real time like windows to our changing world. The viewer participates in the social movements of our time and makes a virtual journey more …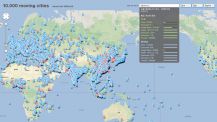 Interface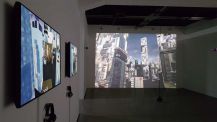 HeK Basel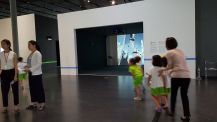 NJPAC Seoul
Publication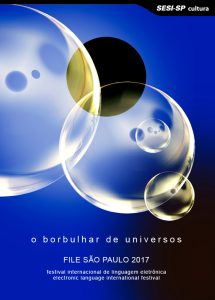 Bubbling Universes - FILE SÃO PAULO 2017
SESI-SP cultura
Book, color, 240 pages, 21 x 28 cm
2017
Português, English
Ricardo Barreto and Paula Perissinotto
ISBN 9788589730235
file.org.br/file_sp_2017/file-sao-paulo-2017-bubbling-universes/
The 18th edition of FILE – Electronic Language International Festival in São Paulo takes place from 18 July to 3 September 2017 at the Fiesp Cultural Center.
Bubbling universes
The emergence of social networks has led to a multiplicity of events on a scale never seen before. The unchecked proliferation of information has now reached an astonishing level and is stored in an unprecedented amount of storage, accessed by thousands of networked data devices.
more …