GLOBALE: Infosphäre
ZKM, Karlsruhe, Germany
Curator: Peter Weibel (Curator)Daria Mille (Co-Curator)Giulia Bini (Co-Curator)
Artists: Timo Arnall & Jack Schulze & Einar Sneve Martinussen, Amy Balkin, Aram Bartholl, Wafaa Bilal, Zach Blas, Blast Theory, Bonjour, interactive lab (Jean-Philippe Jacquot, Gustave Bernier & Alexandre Rivaux), Natalie Bookchin, Dineo Seshee Bopape, David Bowen, James Bridle, Bureau dˈÉtudes, Emma Charles, Tyler Coburn, Sterling Crispin, Stéphane Degoutin and Gwenola Wagon, Dennis Del Favero with Elwira Titan, Peter Weibel, Aleksandra Domanovic, Thomas Feuerstein, Fraunhofer-Institut für Optronik, Systemtechnik und Bildauswertung IOSB, Laurent Grasso, Yoon Chung Han & Byeong-Jun Han, Jonathan Harris, Mishka Henner, Femke Herregraven, Brian House, Scottie Chih-Chieh Huang, Jennifer Lyn Morone™ Inc, Jia, JODI, Matt Kenyon (SWAMP), Erik Kessels, Jeong Han Kim, Hyun Jean Lee, Jung-Do Kim, Brian Knappenberger, Oliver Laric, Marc Lee in cooperation with the Chair for Intelligent Sensor-Actuator-Systems (ISAS), ZAK | Centre for Cultural and General Studies at Karlsruhe Institute of Technology (KIT), George Legrady, Rafael Lozano-Hemmer, !Mediengruppe Bitnik, Laurent Mignonneau & Christa Sommerer, Jonathan Minard & James George, Warren Neidich, The Office for Creative Research (Mark Hansen, Ben Rubin, Jer Thorp), The Otolith Group, Julius Popp, Jon Rafman, REMOTEWORDS (Achim Mohné / Uta Kopp), Stephanie Rothenberg, RYBN.ORG, Mario Santamaria, Philipp Schaerer, Semiconductor, Shinseungback & Kimyonghun, Adam Slowik, Smart Citizen Team in cooperation with IAAC | Fab Lab Barcelona, Media Interactive Design and Hangar, Karolina Sobecka, Christopher Baker, Werner Sobek, Stuttgart, Software Studies Initiative (Lev Manovich, Nadav Hochman, Jay Chow, Damon Crockett), Superflux, Fabrizio Tamburini, Timo Toots, Suzanne Treister, Unknown Fields Division, Clement Valla, Alex Verhaest, Richard Vijgen, Christoph Wachter & Mathias Jud, Addie Wagenknecht, Gwenola Wagon, Where dogs run, Krissy Wilson, Manfred Wolff-Plottegg mit Peter Weibel und Verena Noack, Matthias Wölfel / Angelo Stitz / Tim Schlippe, Erweiterte Sinnesorgane
2015
,
http://zkm.de/en/event/2015/09/globale-infosphere
Exhibited Artwork
10.000 Moving Cities - Same but Different, VR (Virtual Reality)
Interactive net-and-telepresence-based installation
10.000 Moving Cities - Same but Different deals with urbanization and globalization in the digital age. The user moves through visual worlds posted publicly by others on social networks such as YouTube, Flickr or Twitter. Here these personal impressions are streamed in real time like windows to our changing world. The viewer participates in the social movements of our time and makes a virtual journey more …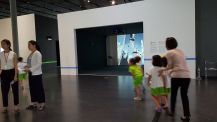 NJPAC Seoul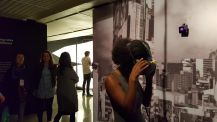 FILE São Paulo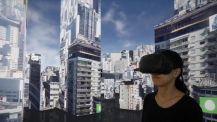 ZKM Karlsruhe
Publication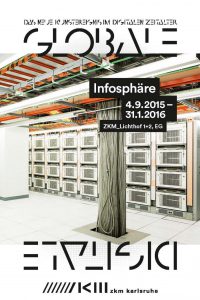 GLOBALE: Infosphere
ZKM | Center for Art and Media
Exhibition brochure, 65 pages
2015
Deutsch, English
Peter Weibel, Daria Mille, Giulia Bini
http://zkm.de/publikation/infosphare
The »Infosphere« exhibition presents an overview of art in the era of the digital revolution and its social consequences. In addition, it provides insights into the new data world – whose existence has been finally brought home to the general public, through the NSA affair.
more …