Gateways. Art and Networked Culture
Kumu Art Museum, Tallinn, Estonia
Curator: Sabine Himmelsbach
Artists: Aram Bartholl, Clara Boj & Diego Diaz, boredomresearch, Petko Dourmana, Escoitar.org, Mindaugas Gapševicius, Kirsten Geisler, Ingo Günther, Hanna Haaslathi, Karel Koplimets & Ivar Veermäe, Katarzyna Krakowiak, Christina Kubisch, Andreja Kuluncic, Marc Lee, Les Liens Invisibles, Jenny Marketou, Eva & Franco Mattes, Achim Mohné & Uta Kopp, Tanja Ostojic, Julius Popp, RIXC, Sašo Sedlacek, Zoltán Szegedy-Maszák / Márton Fernezelyi, Thomson & Craighead, Timo Toots, Anna Trapenciere, You Must Relax
2011
,
http://www.goethe.de/ins/ee/prj/gtw/enindex.htm
Exhibited Artwork
TV Bot - World News as Soon as It Happens!
Network-based television program
The TV Bot is an Internet news channel which only broadcasts brand new stories. Never more than an hour old, they are scooped from the Internet's news flux, reformatted for a browser and given a URL. The process is automated, with no editorial hand behind the content selection which is reproduced in apparently random order as live TV streams, live radio streams, webcam images and text-based headlines. more …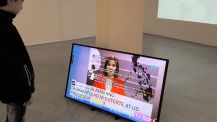 Fotomuseum Winterthur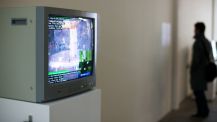 HeK Basel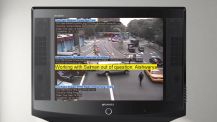 TV Bot 1.0 (2004)
Publication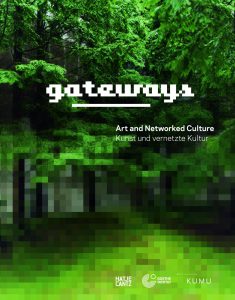 gateways. Art and Networked Culture
Hatje Cantz Verlag in connection with Tallinn, European Capital of Culture 2011
Exhibition catalogue, 240 pages, approximately 80 color illustrations, 50x24 cm
2011
Deutsch, English, Estonian
Sabine Himmelsbach; KUMU Art Museum, Tallinn; Ralf Eppeneder, Goethe-Institut, Estonia. Texts by Sirje Helme, Sabine Himmelsbach, Raivo Kelomees, Karin Ohlenschläger and others
ISBN 978-3-7757-2796-9
http://www.goethe.de/ins/ee/prj/gtw/ueb/en6944843.htm
The gateways catalogue introduces artists whose works deal with the changed conditions of an interconnected world that increasingly is influenced by media.
The exhibition gateways. Art and Networked Culture introduces a young generation of artists whose work deals with the changing conditions of a networked world – a world increasingly transmitted through media. The artistic works presented here use various means to tackle the theme of gateways that lead to realms of action and experience in our digitally interconnected culture.
Through their use of electronic networks and mobile technologies, the artists encourage the public to participate actively and transport new experiences in perception.
more …