The Unframed World
HeK, Basel, Switzerland
Curator: Tina Sauerlaender
Artists: Li Alin (CAN/DE), Banz & Bowinkel (DE), Fragment.In (CH), Martha Hipley (US), Rindon Johnson (US), Marc Lee (CH), Mélodie Mousset & Naëm Baron (FR/CH), Rachel Rossin (US), Alfredo Salazar-Caro (US)
19.01.2017 - 05.03.2017
,
http://www.hek.ch/
Exhibited Artwork
10.000 Moving Cities - Same but Different, VR (Virtual Reality)
Interactive net-and-telepresence-based installation
10.000 Moving Cities - Same but Different deals with urbanization and globalization in the digital age. The user moves through visual worlds posted publicly by others on social networks such as YouTube, Flickr or Twitter. Here these personal impressions are streamed in real time like windows to our changing world. The viewer participates in the social movements of our time and makes a virtual journey more …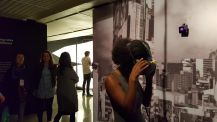 FILE São Paulo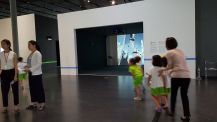 NJPAC Seoul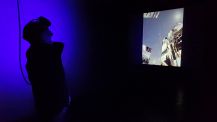 Filmwinter Stuttgart
Publication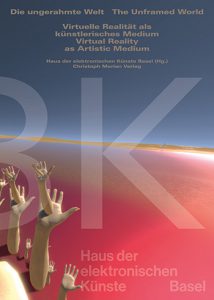 DIE UNGERAHMTE WELT / THE UNFRAMED WORLD
Virtuelle Realität als künstlerisches Medium/ Virtual Reality as Artistic Medium
Merian, Christoph Verlag, HeK (Haus der elektronischen Künste Basel)
Book softcover, 96 pages, 63 colour illustrations, 17.5 x 24.5 cm
2017
Deutsch/English
Sabine Himmelsbach
ISBN 978-3-85616-850-6
http://www.hek.ch/en/program/events-en/event/die-ungerahmte-welt.html
Artistic positions using virtual reality technologies
New perspectives on the depiction of digital pictorial worlds
Essays from Bettina Back, Julia Kaganskiy, Patrick Lichty and Tina Sauerländer
The essays present the works from different research perspectives, thus enabling a broad overview of current trends in a media art based on virtual reality technologies.
The latest virtual-reality technologies are asserting themselves currently in the domain of the fine arts and facilitating an immersion in artificial worlds. Virtual reality is used not only to explore aes-thetic potential, but also as a critical medium for reflecting on the existential state of today's life-world. The works presented in this publication deal with multifaceted themes, such as physical per-ception and physical laws, societal structures as well as architecture and poetry.
more …