Was tun. Figuren des Protests. Taktiken des Widerstands, Book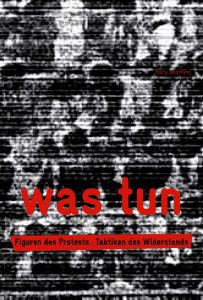 Was tun, Figuren des Protests. Taktiken des Widerstands
Hildegard Fraueneder, Gianni Stiletto
Book  softcover, 208 pages, 16 x 23 cm
2010
Deutsch
Hildegard Fraueneder, Gianni Stiletto
ISBN 978-3-99014-014-7

Reader zum Festival "basics. Medien / Kunst / Gesellschaft", veranstaltet von ARGEkultur, Fachhochschule Salzburg - MultiMediaArt, subnet und der Galerie 5020

Soll und kann Kunst die Welt verändern? Soll sie zu Revolutionen anstiften und Menschen dazu bewegen, sich zur Wehr zu setzen? Kann sie Unterdrückung und Abhängigkeit bekämpfen?

Der Band erforscht Protest und Widerstandsformen im Kontext künstlerischer, medialer und kultureller Praxis und fragt, wie sich diese in unterschiedlichen Wissensdisziplinen wie der Sozial-, Medien- und Kunstwissenschaft ausbilden.
"Was tun" ist Motto im doppelten Sinn: einerseits als verzweifelte Frage nach Handlungsmöglichkeiten, andererseits als entschlossener Aufruf zum Handeln.

Hildegard Fraueneder, geboren 1961, Kunstwissenschaftlerin und Ausstellungskuratorin. Forschung und Lehre an den Salzburger Universitäten und an der FH Salzburg in Genderstudies, Kunst und Gesellschaft, Kunsttheorie und Gegenwartskunst. Publikationen und Vorträge. Leiterin der Galerie 5020 in Salzburg.

Gianni Stiletto, geboren 1953, freier Komponist und Keyboarder. Kompositionsstudium an der Musikhochschule Wien, Gründungsmitglied des K&K Experimentalstudios, Medienperformances und -installationen. Seit 1996 department head audio des Studiengangs Multi-MediaArt der FH Salzburg.




Exhibited Artwork
Breaking the News - Be a News-Jockey
Interactive net-based multi screen installation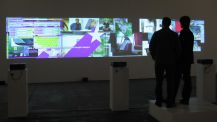 HMKV PHOENIX Halle Dortmund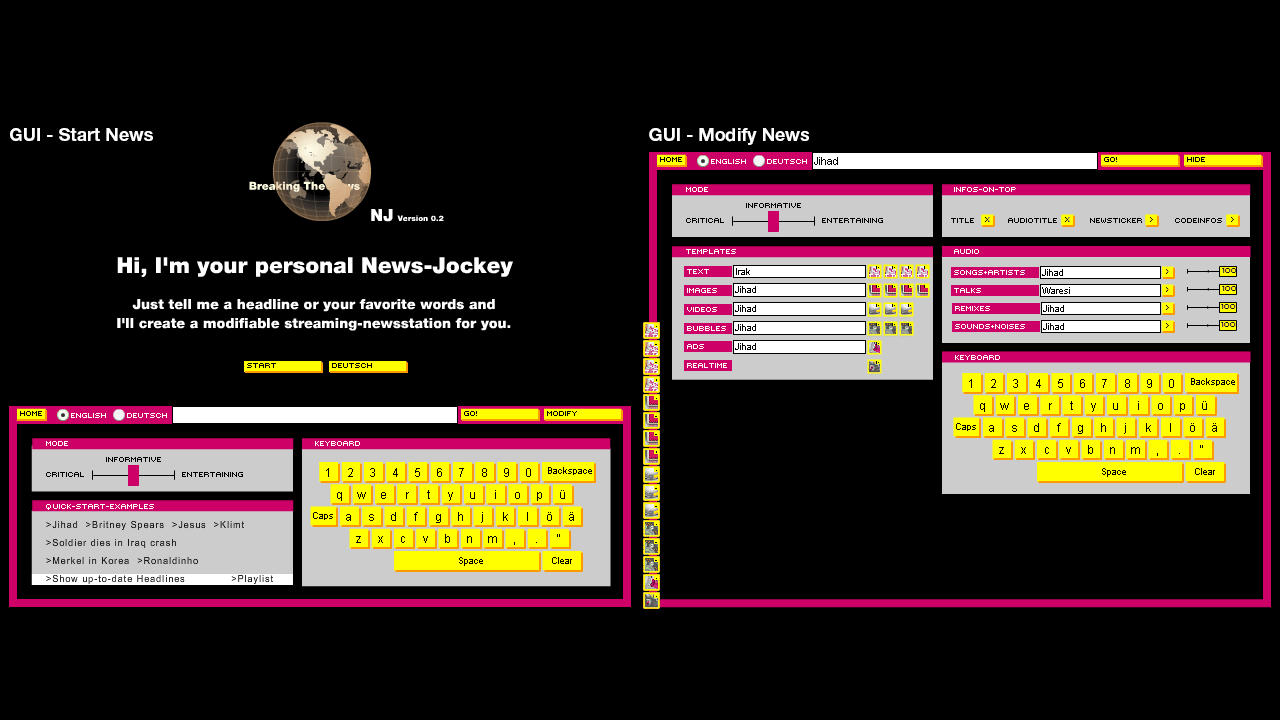 Graphical user interface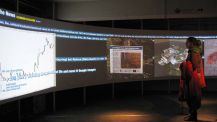 Shift Festival Basel
Exhibited Artwork
Loogie.net TV - Be the First to Know!
Interactive online news channel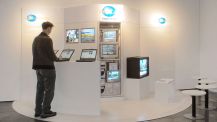 ZKM Media Museum Karlsruhe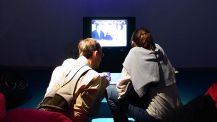 Ars Electronica Linz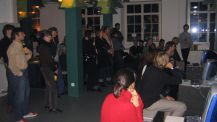 plug_in Basel
Exhibited Artwork
The Dogmeat.org Project
Fussball-WM Hundefleisch Aktion