YOU_ser The Century of the Consumer - ZKM Karlsruhe, Catalogue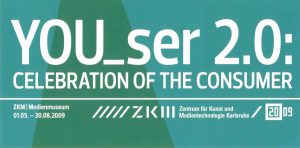 You_ser 2.0, Celebration of the Consumer
ZKM | Center for Art and Media
Exhibition brochure, 68 pages
2009
Deutsch
Peter Weibel, Bernhard Serexhe
http://zkm.de/publikation/youser-20
, 
Exhibition
You_ser 2.0 - Celebration of the Consumer
Edition ZKM | Zentrum für Kunst und Medientechnologie Karlsruhe
In its exhibition YOU_ser 2.0: Celebration of the Consumer the ZKM engages with the effects on art and society of net-based, global creation and demonstrates for the first time in technologically advanced installations the link between "user generated content" and contemporary art. The new installations presented in the exhibition transfer the potential for users' creative collaboration developed in the internet into an artistic context and enables the visitors to emancipate themselves. They can act as artists, curators and producers. Visitors to the exhibition are central as users, as emancipated consumers. YOU are the content in this exhibition! YOU are a part of the universe: YOUniverse. YOU are the user of the world and part of the world, and with that a participant in the world. Whoever is a part of the world also bears some responsibility for the world, of which they are a part. Through their participation, the YOU, the user, has the chance to change the world.In the most technologically advanced environments and installations, the most recent state of the art of participation, pARTicipation, is being shown. That reinforces that tendency, which becomes established in the spirit of the enlightenment for democracy, for untrammelled access to education for all and for the creativity of all.
Curated
Peter Weibel
Project Management
Bernhard Serexhe
Artist (39)
Kees Aafjes, Antonio Barrese, Neil Brown, Dennis Del Favero, Jeffrey Shaw, Peter Weibel, Jim Campbell, Peter Campus, Monika Fleischmann, Wolfgang Strauss, Masaki Fujihata, Ronald Genswaider, Kurt Hofstetter, Informationlab, Airan Kang, Hung Keung, imhk lab, Marc Lee, David Link, Armin Linke, Rafael Lozano-Hemmer, Jonas Mekas, Enrique Rivera, Eva Paulitsch, Uta Weyrich, PIPS:lab, reacTable, Lisa Reinerth, Axel Roch, Mehi Yang, Scenocosme, Christa Sommerer, Laurent Mignonneau, susigames, telewissen, Herbert Schuhmacher, UBERMORGEN.COM, Martin Walde, Matthias Gommel
Exhibited Artwork
Breaking the News - Be a News-Jockey
Interactive net-based multi screen installation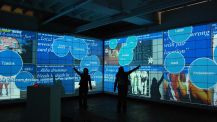 MAPPING Festival Geneva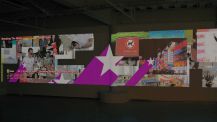 Museum of Modern Art Shanghai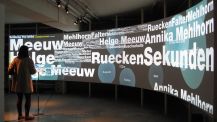 Shift Festival Basel
Exhibited Artwork
Loogie.net TV - Be the First to Know!
Interactive online news channel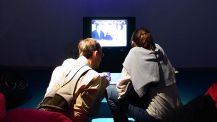 Ars Electronica Linz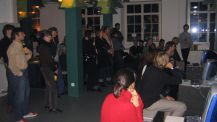 plug_in Basel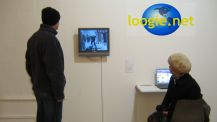 NGBK Berlin