Online audio news channel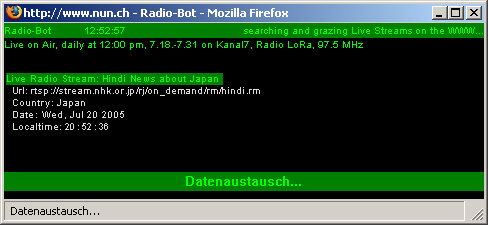 Radio Bot:
Hi Dear Server!
I'm a Live Stream Radio Bot.
The little brother of the TV-BOT.
I'm harking the information flow on the internet
and searching for live audio streams which radio
and TV stations broadcast, around the world,
in realtime.
Live on Air, daily at 12 am and 11 pm , 7.28.-8.8. 2007 on Kanal7, Radio LoRa, 97.5 MHz, broadcasted from Dock18
Kanal7 is a broadcastproject from Wildprovider + anorg.net on 97,5 MHz from Radio LoRa.
http://1go1.net/56ktv/radio-bot.html
RealPlayer was requred.