YOU_ser. The Century of the Consumer
ZKM, Karlsruhe, Germany
Curator: Peter Weibel
Artists: Giselle Beiguelman, Torsten Belschner, Joseph Beuys, Michael Bielicky, Margo Bistis, Bas Böttcher, Joachim Böttger, Ludger Brümmer, Martin Burckhardt, Shane Cooper, Götz Dipper, Monika Fleischmann, Ronald Genswaider, Matthias Gommel, Axel Heide, Mogens Jacobsen, Norman M. Klein, Andreas Kratky, Susanna Kraus, Marc Lee, David Link, Armin Linke, Bernd Lintermann, Rafael Lozano-Hemmer, Michael Mangold, Catalina Ossa Holmgren, Nam June Paik, Philip Pocock, Chandrasekhar Ramakrishnan, Kamila B. Richter, Enrique Rivera, Axel Roch, Herbert Schuhmacher, Michael Schuster, Jill Scott, Jeffrey Shaw, Gregor Stehle, Wolfgang Strauss, Steina Vasulka, Woody Vasulka, Stephan von Huene, Franz Erhard Walther, Peter Weibel, Julie D. Woletz, Erwin Wurm, Mehi Yang, PIPS:lab, susigames, telewissen
2008
Exhibited Artwork
Breaking the News - Be a News-Jockey
Interactive net-based multi screen installation
Just tell us a headline or your favorite words and we'll create a modifiable streaming news-station for you. Breaking The News is an interactive installation, transmitting in realtime information from the internet. The user becomes a live performer, a News-Jockey. https://youtu.be/jG7rX6Tumgs Background Friends ask: Could you help me to cook up a news that I'll like? Those questions often more …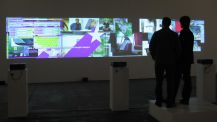 HMKV PHOENIX Halle Dortmund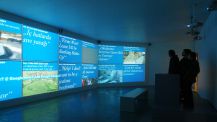 Santralistanbul Istanbul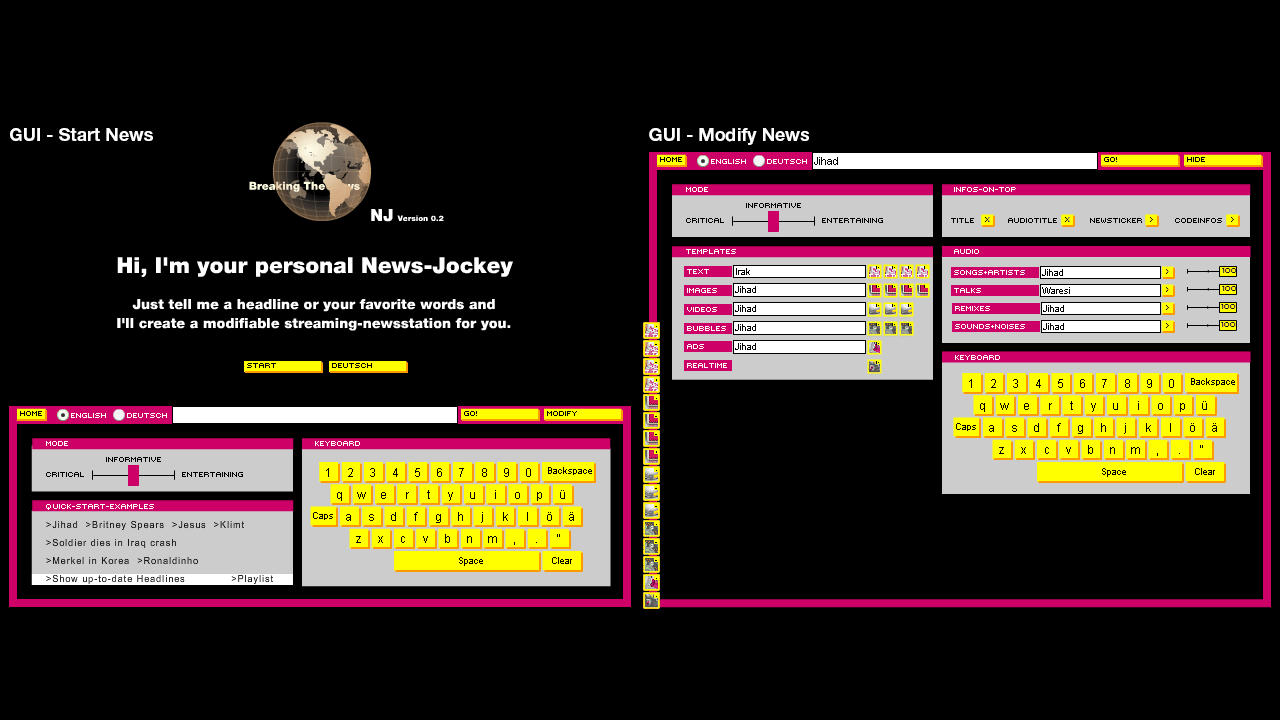 Graphical user interface
Exhibited Artwork
Loogie.net TV - Be the First to Know!
Interactive online news channel
Loogie.net TV shows you the latest world news about the subjects you choose. By putting in keywords with a special remote control or by SMS you can determine which subjects will be shown on television and you will be presented with news fit to your specifications. Additionally, in a second step your TV program can be narrowed down and focused on your own main areas of interest. The content of the more …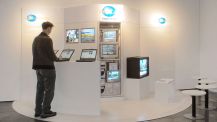 ZKM Media Museum Karlsruhe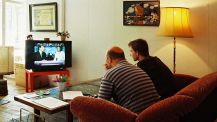 Diploma Exhibition Zürich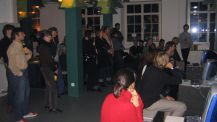 plug_in Basel
Publication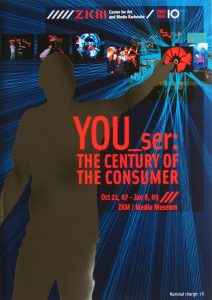 You_ser, The Century of the Consumer
ZKM | Center for Art and Media
Exhibition brochure, 64 pages
2007
Deutsch, English
Peter Weibel
http://zkm.de/publikation/youser Deutsch
, 
English
ZKM | Zentrum für Kunst und Medientechnologie Karlsruhe
YOU_ser,
Das Jahrhundert des Konsumenten
21.10.2007 – 30.04.2009, ZKM | Medienmuseum, EG
Im 19. Jahrhundert ist das 20. Jahrhundert imaginiert worden als Technologie der Mobilisierung und Personalisierung. Mit PC und Handy etc. sind diese Phantasien eingetreten. Diese Technologien haben aber auch die Kunst verändert. Die Geschichte der Betrachter von Kunst und der Besucher von Museen hat im 20. Jahrhundert neue Akzente erhalten. Nach 1945 hat in der Neuen Musik und in der bildenden Kunst die Partizipation des Publikums als Teil des Kunstwerkes eingesetzt. Die Medienkunst hat die Teilnahme des Betrachters am Entstehen des Kunstwerkes als Interaktivität zwischen Betrachter und Kunstwerk, im Sinne einer wechselseitigen Beeinflussung, etabliert (im 1. Stock des ZKM | Medienmuseums kann man diese Entwicklung nachvollziehen). Im 21. Jahrhundert erzeugt nun der Betrachter durch die Möglichkeiten des Internets auch die Inhalte der Kunstwerke, die untereinander ausgetauscht und im Netz frei verteilt werden können. Der Betrachter wird zum Nutzer/User. Die Ausstellung »YOU_ser: Das Jahrhundert des Konsumenten« zeigt in den nächsten ein bis zwei Jahren mit wechselnden Kunstwerken und Positionen erstmals Konturen dieser neuen Nutzerkunst.
more …