Netzwerkbasiertes interaktives Radioprogramm
Online audio news channel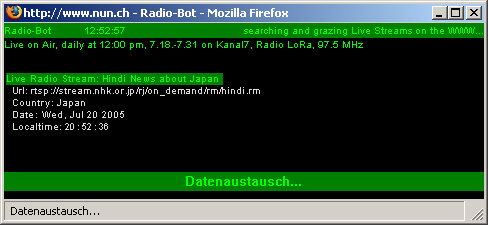 Radio Bot:
Hi Dear Server!
I'm a Live Stream Radio Bot.
The little brother of the TV-BOT.
I'm harking the information flow on the internet
and searching for live audio streams which radio
and TV stations broadcast, around the world,
in realtime.
Der Radio Bot ist wieder Live on Air mitzugeniessen!
Zehn Tage lang , täglich um 12:00 Uhr und 23:00 Uhr, vom 28.Juli – 8.August 2007 auf Kanal7, Radio LoRa, 97.5 MHz. Gesendet wird live aus dem Dock18 in Zürich.
http://1go1.net/56ktv/radio-bot.html
RealPlayer wurde benötigt.