Mixed Media Installation
Marc Lee has built a pyramid for meditation and resting with the help of local people. The pyramid is made of recycled material and completely covered by shiny plastic waste, murmuring in the wind and providing shadow.
Fascination
I'm fascinated by the people who live at Janakiraman Layout, behind the Banaswadi Railway Station. The place is full of energy: smell of wood smoke, cowshit, cold mornings, hot chai, laughing eyes, beggars poorly clothed and beggars in suits, colorful saris. what a place it is.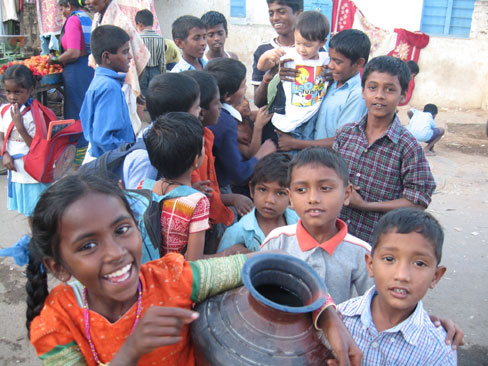 Children at Janakiraman Layout
Inspiration
I get inspired by the colorful bags like candy-, shampoo-, salt-, chips-, coffee bags which are hanging in lines in small stores. By collecting the empty bags we are cleaning the ground. By using the empty bag we recycle them. By sewing them onto the pyramid, we are giving it a coat and at the same time it's getting transformed into something new.
The place were the pyramid stands was full of this bags. Now they are still there in a new form and reflecting the original space in a new way.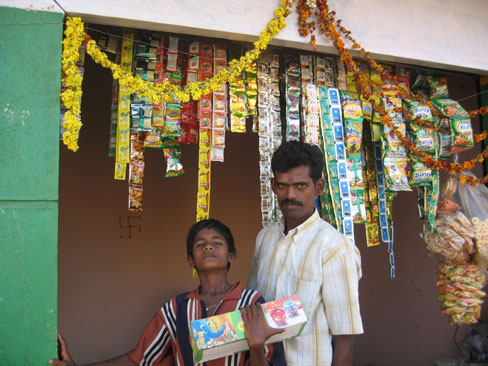 Inspirations from hanging bags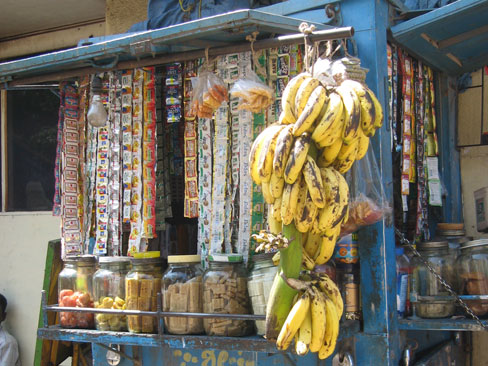 Shop seller hidden by bags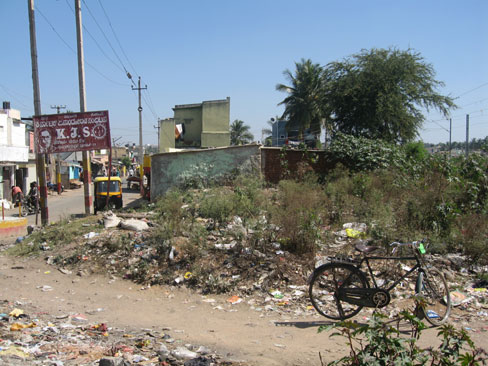 Empty bags are everywhere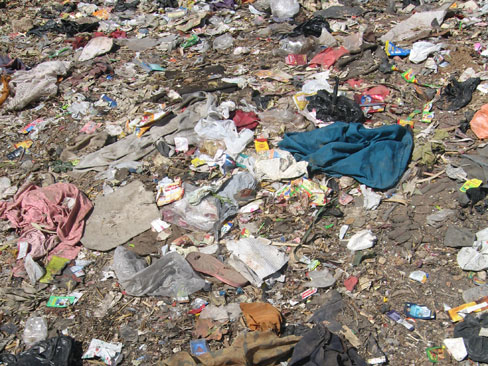 Really everywhere
Permission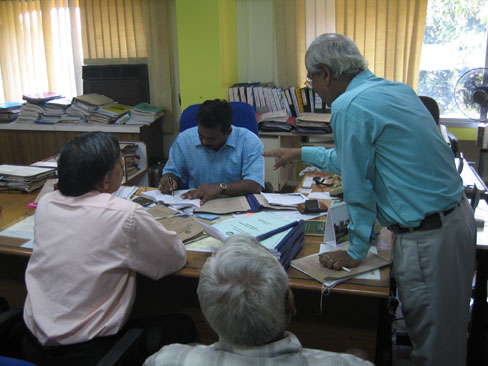 Permission from the railway department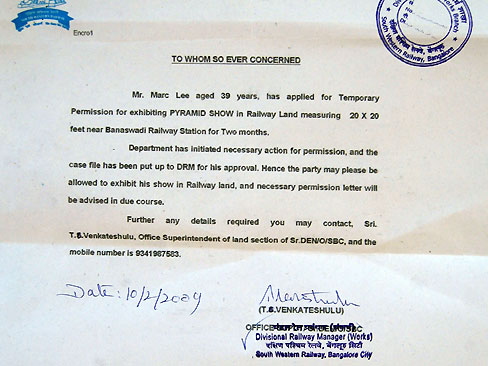 After six times visiting the office
Transport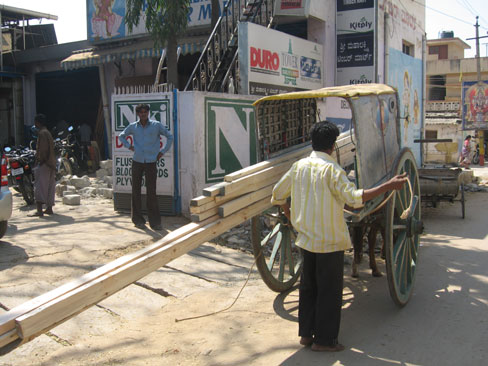 Wood transport, use horse for lower price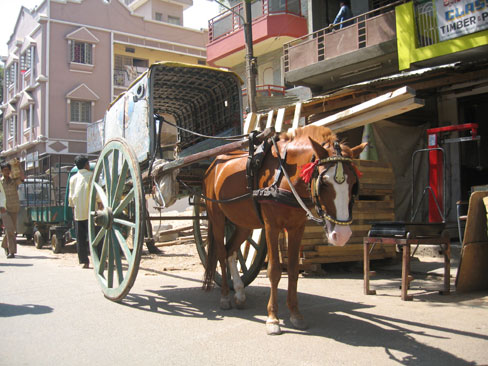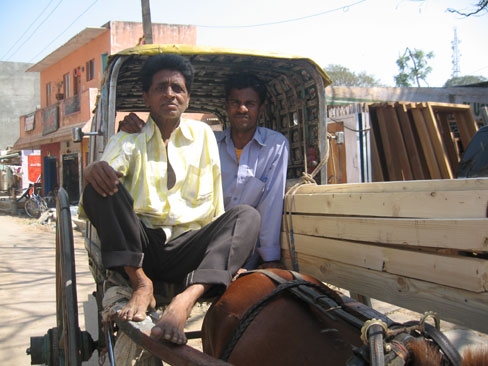 Cleaning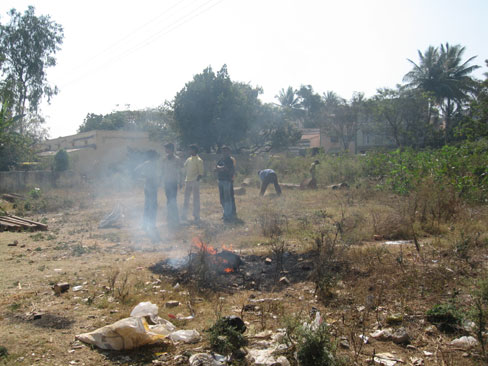 Cleaning the space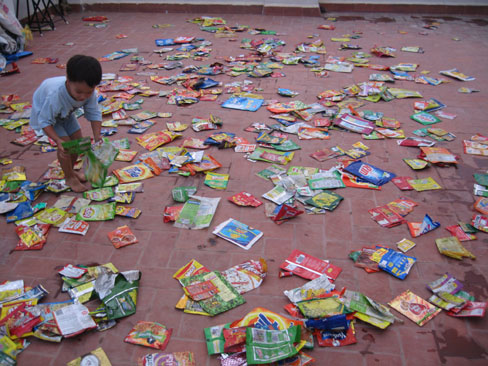 Collecting and cleaning the bags
Building the pyramid beside the railway line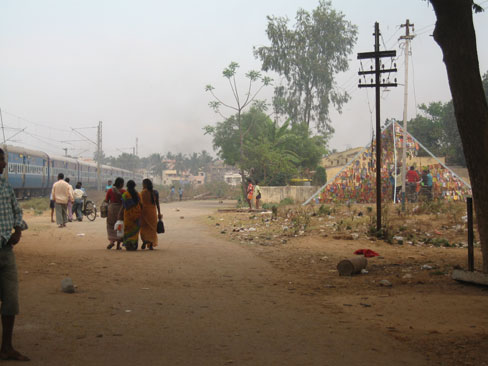 Building the pyramid beside the railway line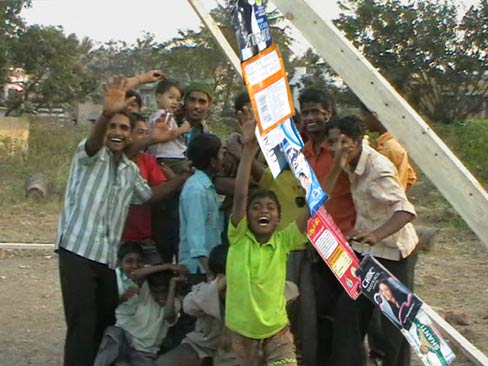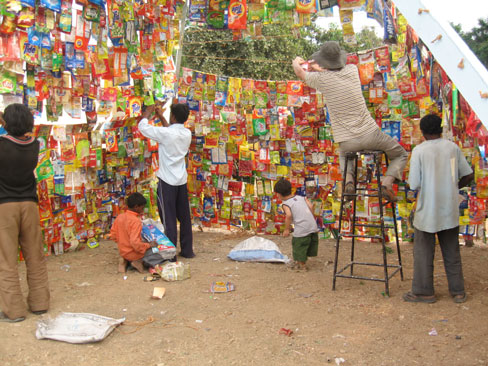 Hanging up the bags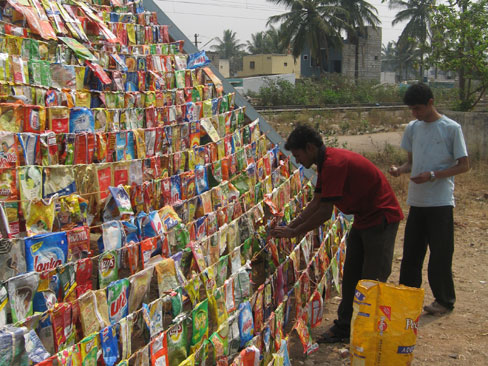 Finale sewing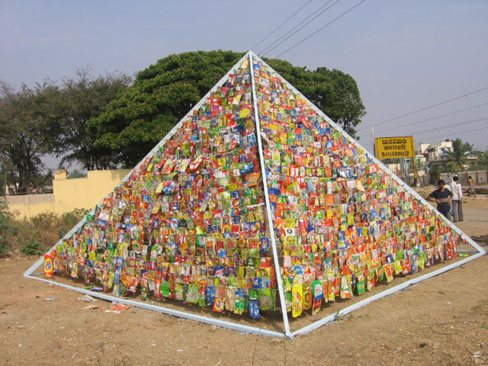 Finished!
A pyramid is a very static, stiff and silent object. The hanging bags are moving, vital and murmuring in the wind. This to opposite characteristics coming together, inter-weaving, and something new appears.
Opening and initiation ceremony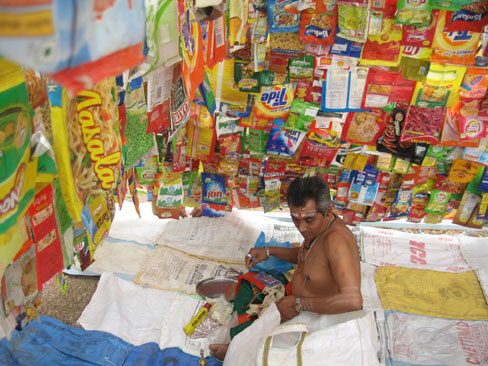 Initiation ceremony by Hindu Priest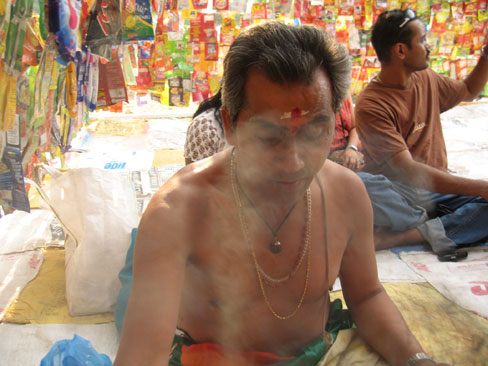 Hindu Pries covered with bags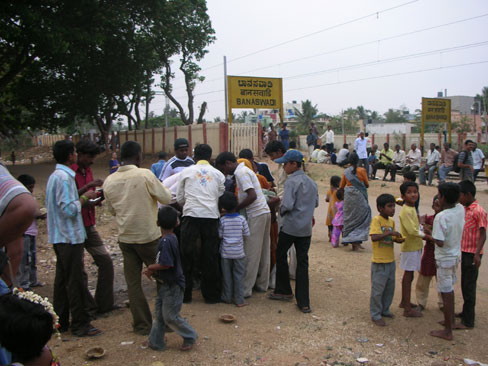 Free meal as part of the opening

Free meal as part of the opening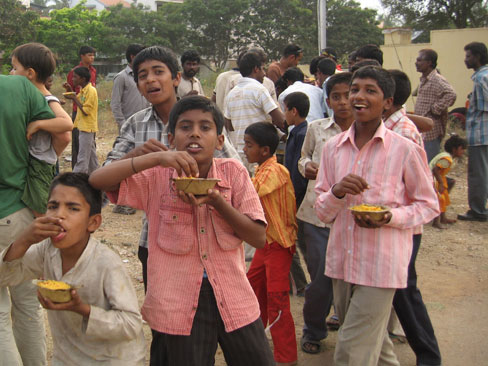 Eating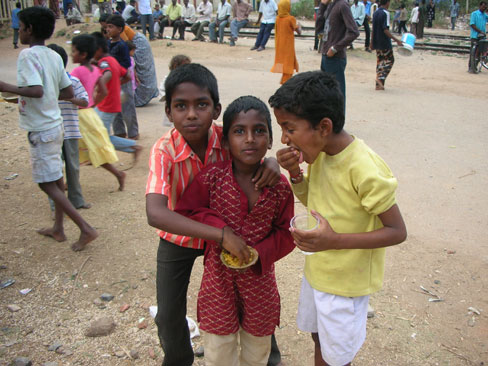 Not enough plats
Meditation and Yoga
It is believed, while meditating in a Pyramid you get most cosmic energy. At the same time it is good place to relax, to find same shadow and to tell stories.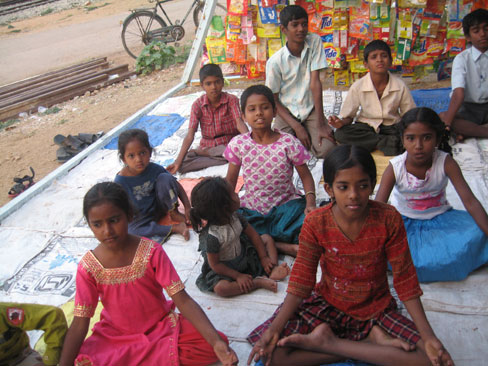 Meditation classes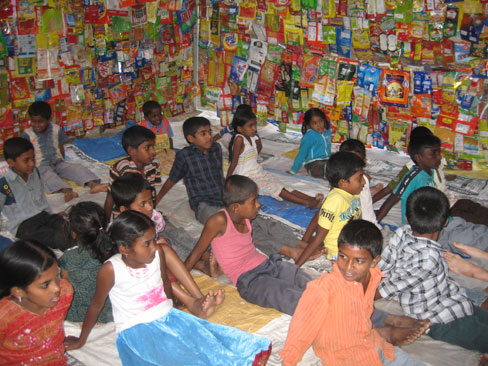 Maybe to young – let's do yoga
Other uses of the pyramid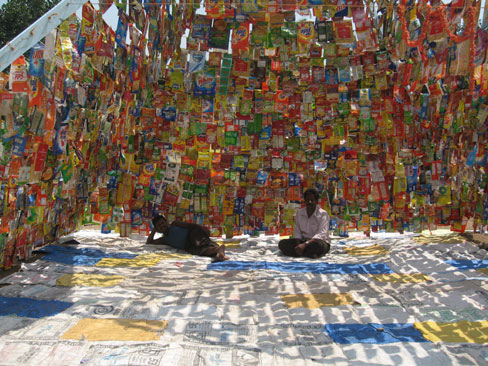 Resting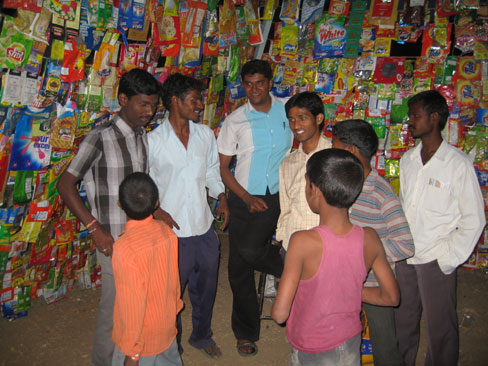 Telling stories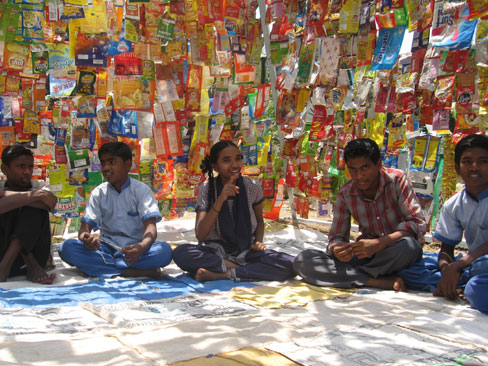 Thinking about the future houses
Inspired by the pyramid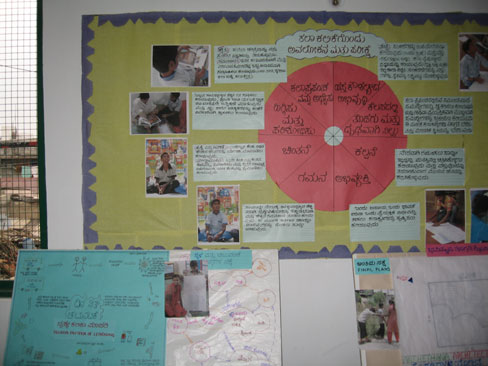 Inspired by the pyramid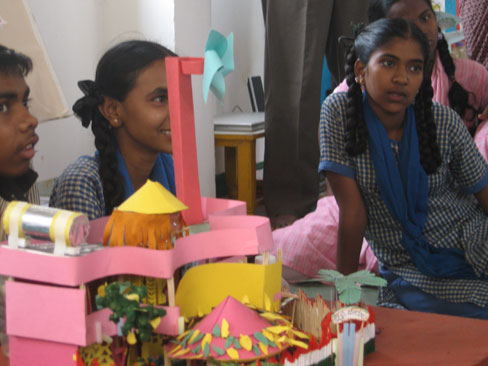 Model of a future classroom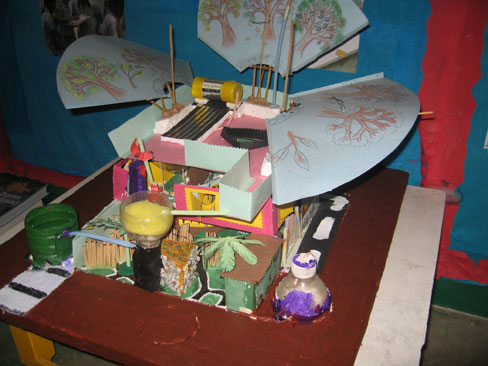 Another beautiful model of a future classroom
Press